June 14 – July 24, 2022 | Mandell Weiss Theatre
Book, Lyrics & Original Concept by Carson Kreitzer
Book & Music by Matt Gould
Choreographed by Raja Feather Kelly
Directed by Rachel Chavkin
A BROADWAY-BOUND MUSICAL – SEE IT HERE FIRST!
Listen now to songs from the upcoming Lempicka cast EP presented by Sony Masterworks Broadway!
"Boldness pulses through Lempicka, a Broadway-bound musical that's as ambitious and complex as the painter it frames onstage"
— Los Angeles Times
"Ravishing…Dazzling"
"Eden Espinosa delivers a fierce and formidable acting and vocal performance"
"[Amber Iman's] liquid amber voice has a fluidity…and a resonating richness"
"[George Abud's] edgy performance…is one of those moments in a show where thoughts of future Tony nominations dance in the head — for him, as well as for Espinosa and Iman"
— The San Diego Union-Tribune
"Dynamic and exciting, with lots of bold music, innovative staging, gorgeous costumes and projections, and powerhouse vocals"
— Broadway World
Art Deco painter Tamara de Lempicka is a celebrity icon of modernity, famed both for her stunning portraits of jazz era society and for her unapologetic, daring lifestyle. Fleeing political upheaval in St. Petersburg to the glamour of 1920s Paris, Tamara uses her raw talent and relentless ambition to claw her way from penniless refugee to in-demand portraitist. Her world is upended when she meets Rafaela, a free spirit from the city slums, who introduces Tamara to a new world of decadence and passion. Torn between her new muse and her husband, and fighting to leave her mark on an ever-changing world, Tamara must discover the depths of her own strength to survive.
Madonna and Barbra Streisand are counted among her fervent collectors – now, the Broadway-bound musical Lempicka explores Tamara's remarkable life with a powerhouse cast, sumptuous staging and a thrilling pop-infused score. Get your tickets today for this breathtaking musical about a woman ahead of her era – and an artist whose time has finally come.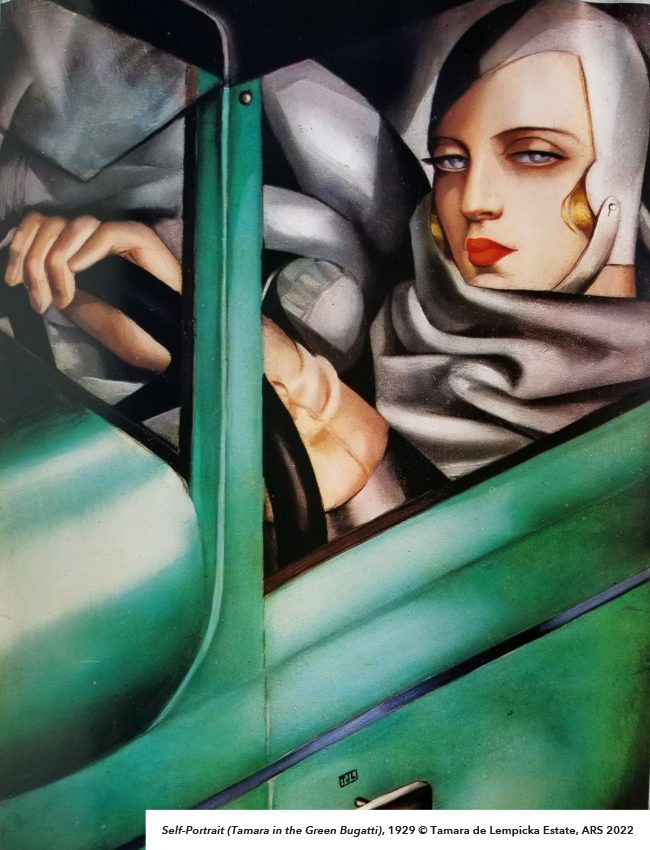 Explore Tamara de Lempicka's Artwork
» View our gallery
(Images used courtesy of Tamaradelempickaestate.com)
The Life & Art of Tamara de Lempicka
» Watch a chat with Roxana Velázquez (Executive Director & CEO of the San Diego Museum of Art
Production Sponsors
The Paula Marie Black Endowment for Women's Voices in the Art of Theatre
---
ACCESS Performance
(ASL interpretation):
Saturday, July 2 at 2:00 pm
ACCESS Performance
(Audio Description):
Saturday, July 2 at 2:00 pm
ACCESS performances offer American Sign Language interpretation for patrons who are d/Deaf or hard-of-hearing and Audio Description for patrons who are blind or have low vision. Inquire with Patron Services for available ACCESS subscription series (858) 550-1010.
---
Covid-19 Policy
(Updated June 20, 2022)
Masks will be required indoors for all performances of Lempicka. Proof of vaccination or negative Covid-19 PCR test results are not required. For up-to-date information regarding COVID-19 safety procedures, please visit our Covid Safety Page.
Complete ticket flexibility! Purchase tickets today and if for any reason you cannot attend on your performance date, call Patron Services to discuss options such as exchange, refunds, gift certificates.
Onsite Dining:
La Jolla Playhouse's on-site restaurant, James' Place, is open for dinner service at 5:00pm on nights of performances. James' Place offers full bar service and a selection of specialty Asian fusion, steak & coastal cuisine items, per the menu below. Reservations can be made by phone as well as OpenTable. Indoor and outdoor seating options are available. Please note, James' Place is not open prior to matinee performances.
Concessions
Concessions opens 90 minutes before showtime at the bar outside of the Weiss Theatre. Come early to relax outside and enjoy a selection of beer, wine, cocktails, sodas and individually wrapped snacks. All food and drinks must be consumed before entering the theatre.
---
Approximate run time: 2 hours and 50 minutes, including intermission
Content note: This production contains strobe lights, haze, prop guns, vape cigarettes/e-cigarettes and adult content.
The world premiere of Lempicka was originally produced in July 2018 by the Williamstown Theatre Festival; Mandy Greenfield, Artistic Director.
Top banner photo credit: Eden Espinosa as "Tamara de Lempicka" with cast members (l-r) Devin L. Roberts, Joey Taranto and Morgan Nicholas Scott in La Jolla Playhouse's production of LEMPICKA; photo by Matthew Murphy.