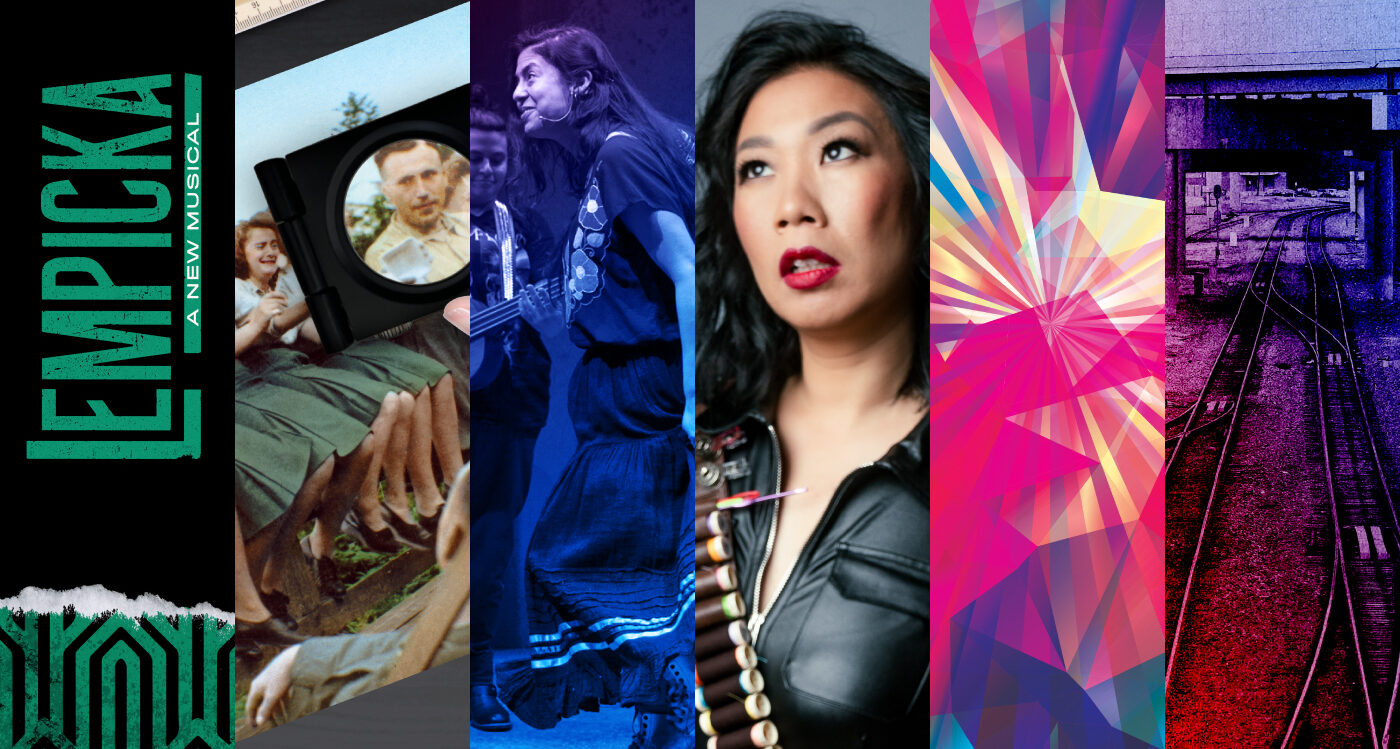 2022/2023 Season is Here!
Includes two new musicals, a New York Times Critics' pick, and a world-premiere play
New Subscriber?
SUBSCRIBE TODAY!
---
A New Musical!
Mandell Weiss Theatre
June 14 – July 24, 2022
Lempicka
Book, Lyrics and Original Concept by Carson Kreitzer
Book and Music by Matt Gould
Choreographed by Raja Feather Kelly
Directed by Rachel Chavkin
Amid the political upheaval of the early 20th Century, a young painter named Tamara de Lempicka and her aristocrat husband are forced to abandon their luxurious lifestyle in St. Petersburg and flee to the dubious safety of Paris. Relying on raw talent and relentless ambition, Tamara claws her way from penniless refugee to in-demand portraitist, earning a place among Parisian high society. Her world is upended once again when she meets Rafaela, a free spirit from the city slums, who introduces Tamara to a new world of decadence and passion. Torn between her new muse and her husband, and fighting to leave her mark on an ever-changing world, Tamara must discover the depths of her own strength to survive. Spanning decades of political turmoil and told through a thrilling, pop-infused score, Lempicka boldly explores the contradictions of a world in crisis, a woman ahead of her era, and an artist whose time has finally come.
---
World-Premiere Play
Sheila and Hughes Potiker Theatre
July 26 – August 21, 2022
Here There Are Blueberries
By Moisés Kaufman and Amanda Gronich
Conceived and directed by Moisés Kaufman
A Co-Production with Tectonic Theater Project
An album of never-before-seen World War II-era photographs arrives at the desk of United States Holocaust Memorial Museum archivist Rebecca Erbelding. As Rebecca and her team of historians begin to unravel the shocking story behind the images, the album soon makes headlines around the world. In Germany, a businessman sees the album online and recognizes his own grandfather in the photos. He begins a journey of discovery that will take him into the lives of other Nazi descendants — in a reckoning of his family's past and his country's history. Here There Are Blueberries tells the story of these photographs, and what they reveal about the Holocaust and our own humanity.
---
A Play With Music and Dance
Mandell Weiss Forum
August 30 – September 25, 2022
The En Garde Arts Production of


Fandango for Butterflies (and Coyotes)

By Andrea Thome
Original Music by Sinuhé Padilla
Directed by José Zayas

A group of Latin American immigrants gather in a community center in New York City for a fandango – a festive community celebration where stories are brought to life through live performance, music, and dance. The group bonds over the concern for their loved ones in the middle of their dangerous journey to the US and worry for their families left behind in their home countries. But amid the cheerful preparations and warm greetings of friends old and new, fears of a city-wide ICE raid permeate the party. Yet in the spirit of the fandango, their resilience and camaraderie grows as strangers become friends, friends become family, and the music plays on. Inspired by interviews with immigrants, this joy-filled play with music is a heartfelt look in to the lives of the real people behind the immigration headlines.
---
New Comedy: Pulitzer Prize Finalist
Sheila and Hughes Potiker Theatre
September 20 – October 16, 2022
Kristina Wong, Sweatshop Overlord
Written and Performed by Kristina Wong
Directed by Chay Yew
On Day 3 of the COVID-19 pandemic, Kristina Wong began sewing masks out of old bedsheets and bra straps on her Hello Kitty sewing machine. Before long, she was leading the Auntie Sewing Squad, a work-from-home sweatshop of hundreds of volunteers—including children and her own mother—to fix the U.S. public health care system while in quarantine. It was a feminist care utopia forming in the midst of crisis. Or was it a mutual aid doomsday cult? With hilarity and boundless generosity, she invites the audience in on her work building community in isolation, while reflecting on what we'd been through and imagining what we wanted to become.
---
A Re-Imagined Classic
Sheila and Hughes Potiker Theatre
November 15 – December 18, 2022
As You Like It
By William Shakespeare
Co-Directed by Christopher Ashley and Will Davis
In these woods, who you want to be is entirely up to you…
In Shakespeare's classic romantic comedy, Rosalind and Orlando meet by chance in court and have an immediate connection. When they are both banished, fate brings them together again in the Forest of Arden. But this time, Rosalind, who is dressed as the male shepherd Ganymede for safe passage, challenges Orlando to prove the strength of his love by offering herself up to role play as Rosalind. In the ensuing game of romantic seduction, does Orlando know who is under the costume, or is the game love itself?
In this reimagined As You Like It, co-directors Christopher Ashley and Will Davis take audiences into the vibrant, wild woods, where our preconceived notions topple in the face of the malleability of identity and limitless potential of the human heart.
---
World-Premiere Musical
Mandell Weiss Theatre
February 19 – April 2, 2023
The Outsiders
Book by Adam Rapp
Music and Lyrics by Jamestown Revival and Justin Levine
Music Supervision, Arrangements and Orchestrations by Justin Levine
Directed by Danya Taymor
The story that defined an era is reimagined in a groundbreaking musical for a new generation. In 1967 Tulsa, Oklahoma, the hardened hearts, aching souls and romantic dreams of Ponyboy Curtis, Johnny Cade and their band of greasers take center stage in a fight for survival and a quest for purpose. Adapted from S.E. Hinton's seminal book and Francis Ford Coppola's iconic film, The Outsiders features a book by Adam Rapp, music and lyrics by Jamestown Revival (Jonathan Clay and Zach Chance) and Justin Levine, music supervision, arrangements & orchestrations by Justin Levine; directed by Danya Taymor.
---
New Subscriber?
SUBSCRIBE TODAY!
All artists and programs subject to change.