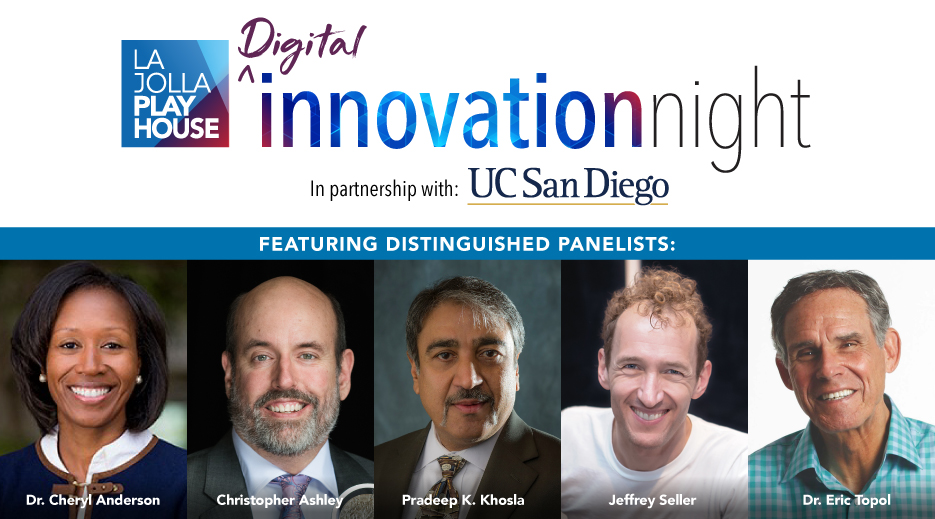 ABOUT THIS YEAR'S EVENT
This year, we are taking Innovation Night virtual!
This year we will celebrate and discuss the efforts of the countless San Diego companies working on the front lines of the fight against COVID-19 and how their innovations will bring us back together again. Our expanded Innovation Night Gallery, is the perfect place to learn about the developments taking shape at top companies and mix and mingle with industry pros. There will be several days of access to online networking, perusing the sponsor galleries and viewing Playhouse performances.
The main event will be an Exclusive Panel Conversation "Creating Art in the Time of COVID" a discussion about what future testing and vaccine breakthroughs mean for the return to cultural events, education and public gathering. Distinguished speakers include:
Dr. Cheryl Anderson, Professor and Dean of the University of California San Diego Herbert Wertheim School of Public Health and Human Longevity Science
Christopher Ashley, The Rich Family Artistic Director of La Jolla Playhouse and Tony Award-winning director of Come From Away
Pradeep K. Khosla, Chancellor, University of California San Diego
Jeffrey Seller, Tony Award-winning producer of Hamilton and director of Fly
Dr. Eric Topol, Founder and Director of the Scripps Research Translational Institute, Professor, Molecular Medicine, and Executive Vice-President of Scripps Research
Plus, Special Invited Guests: Joseph Panetta, President & CEO of Biocom; San Diego Mayor Kevin Faulconer; and Admiral Brett Giroir, M.D., United States Assistant Secretary for Health.
All tickets benefit La Jolla Playhouse's R&D activities such as Digital WOW programming and Education and Outreach efforts to support teachers with theatre curriculum during remote learning.

---

WHY INNOVATION NIGHT
As a leader in innovation on stage, La Jolla Playhouse couldn't be a better organization to host this extraordinary event each year, bringing San Diego's flourishing community of science and technology innovators together for an evening of creative exchange. Over the last 13 years, funds raised at Innovation Night have enhanced the Playhouse's own "R&D" efforts – including our signature play development programs, Without Walls (WOW) series of immersive and site-based theatre, as well as ongoing artist commissions and residencies – all while facilitating partnerships among artists and leaders in San Diego's life sciences, biotech, high-tech, clean-tech and telecommunication industries.
---
EVENT DETAILS
Main Event: Wednesday, October 14, 2020, 4 pm – 6 pm PT
Upon registration, you will upload your personal Innovation Night profile in preparation for connecting with fellow attendees in the Innovation Night Gallery.
Join us early in the virtual lobby at 3:30 pm for a Happy Hour with Seven Caves distillery and learn how to make the perfect craft cocktail.
The Main Event begins at 4:00 pm with welcome and introductions from La Jolla Playhouse and San Diego Mayor Kevin Faulconer who will launch the engaging panel conversation, "Creating Art in the Time of COVID."
This remarkable panel features esteemed speakers: Dr. Cheryl Anderson, Christopher Ashley, Pradeep K. Khosla, Jeffrey Seller and Dr. Eric Topol to discuss how theatres have gone digital, adjusted to social distancing, and what potential future testing and vaccines mean for a return to live theatre, education and public gathering.
Following the panel discussion, attendees can choose to visit the Innovation Gallery or enjoy the world premiere screening of the WOW Digital piece, YOU ARE HERE by Marike Splint. YOU ARE HERE invites the audience on a road trip around the world in Google Earth, a journey down forgotten roads of our personal geographies, the back alleys of our memory, and the highways to places we long to be. Both the Gallery and Digital WOW video will be available through Friday, October 16.
Be sure to stop in the Innovation Gallery to mix and mingle with the best in the business. See what innovations they are working on and share what you are doing!
Gallery hosts: Arcturus Therapeutics, Biocom, Canale Communications, Connect, Cooley, Dowling & Yahnke, Illumina, IQHQ, KindredBio, NuVasive, Qualcomm, ResMed, San Diego Blood Bank, SDG&E, Show Imaging Inc., Tega Therapeutics, Thermo Fisher Scientific, UC San Diego, Viracta
If you were unable to attend, please consider supporting innovation at the Playhouse by clicking here: INNOVATE.givesmart.com

---