About the Project
Spittin' Truth To Power While Light Leaping For the People is an intergenerational piece using images, music and storytelling styles reminiscent of the griot. Between fire and brimstone preaching, the intimate vulnerability of prayer, and the invitation to fellowship, renowned San Diego poet and PLC member Alyce Smith Cooper and acclaimed DJ and musician Shammy Dee are reaching to penetrate the hearts of the people. This three-part spoken verse will encompass the juxtaposition of past/present, yin/yang, male/female with the dream of transformations hoped for and imagined. It is both a personal moment and a collective piece – a springing forward into a leap of light.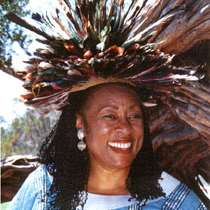 Alyce Smith Cooper, The Golden Brown Fairy Godmother, The Ancestral Storyteller, Great Grandmother – Alyce wears all these roles and more with ease. Some know her as Reverend, Registered Nurse, poet, actress, community activist. Along with two co-authors she has written the The Gumbo Pot Poems (Amazon.com). Recently she was named Poet Laureate of the San Diego Veterans Museum. No matter how one knows Alyce, there is always a story and a smiling word of encouragement included in the interaction. Alyce has told stories across the United States, Puerto Rico, and the Bahamas at schools, libraries, museums, around campfires under the stars, at family reunions and in corporate board rooms. She is always ready to educate, excite and invite you to tell your stories about your own journey.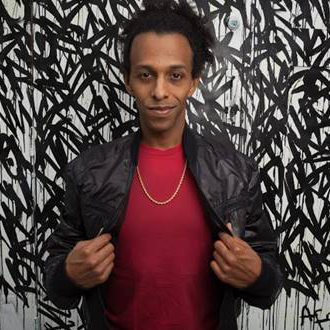 Shammy Dee is known as the "secret weapon" to event planners and people who need a DJ that will bring the house down. He keeps dance floors filled and brings positive energy to every event he rocks. Primarily known as a DJ, he's played for some of the world's top brands such as Louis Vuitton, Jimmy Choo, Dior, Adidas, and Burberry, to name a few, as well as recognized celebrities such as Mary J. Blige, the Kardashians, and Michael Bublé. On top of touring the nation multiple times as the tour DJ for internet sensation Destorm Power, Shammy has also shared the stage with Grammy Award-winning artists like Kendrick Lamar and Diplo. He is also an accomplished artist. His original music has created a buzz, charting three #1 singles off his debut album, Transcripted Thoughts, on national college charts and he's constantly working on new projects. You may have seen his face on television on the popular "Bad Game" Gamefly commercial or on television shows such as How I Met Your Mother. His background in music and acting has brought opportunities as a composer and music director for theatrical productions such as La Jolla Playhouse's Tiger Style!, South Coast Rep's Poor Yella Rednecks, ACT's Vietgone, Cleveland Play House's How We Got On and The Old Globe's Welcome To Arroyo's.