Join the professionals from the Tony Award winning La Jolla Playhouse for a fun filled and action packed three-day professional learning intensive in technical theatre. This opportunity offers hands-on activities for the new theatre teacher who needs additional support to safely teach tech theatre as a course or the veteran theatre teacher who wants to reacquaint themselves with tech theatre best practices. Your three day experience will be facilitated by veteran high school Theatre teachers and La Jolla Playhouse Teaching Artists, Julie Benitez and Kirsten Giard–experienced educators with nearly 60 years of teaching combined. You will also interact with professional artists and technicians working on La Jolla Playhouse productions.
Your experience will include:
Hands on experiences in all elements of technical theatre
Demonstrations and conversations with La Jolla Playhouse professionals
Guidance on lesson planning and curriculum development
Daily lunches, and two dinners
Opportunity to observe the tech process for a La Jolla Playhouse show
A ticket to a La Jolla Playhouse production
Dates:
July 19, 20, 21
Intensive begins at 9:00 am on the 19th, and concludes at 5:00 pm on the 21st for travel purposes. Full schedule will be shared closer to the start date.
Location:
All programming will take place at La Jolla Playhouse, 2910 La Jolla Village Drive, La Jolla, CA 92037. Housing is not provided for this intensive, but there are plenty of hotels and AirBnBs in the area. Lunch will be provided daily, and dinner will be provided on the 19th and 20th. There are several parking options on or near campus we will share with participants but public transportation and rideshare are encouraged.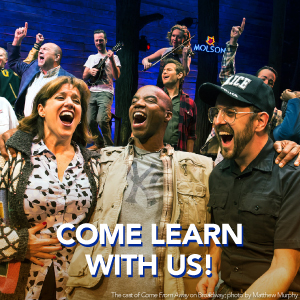 Registration:
$599
*Please note, your registration will be complete once you have:
-Purchased a spot.
-Received a confirmation email.
-Filled out the google form and policies/waiver form linked in the confirmation email.