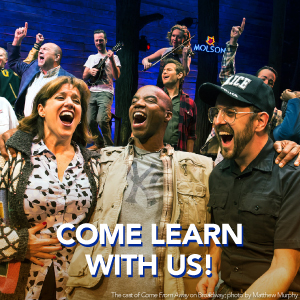 Come to the Tony Award-winning La Jolla Playhouse for a fun filled and action packed week of professional learning intensive in technical theatre. These opportunities offer hands-on activities for the new theatre teacher who needs additional support to safely teach tech theatre as a course or the veteran theatre teacher who wants to reacquaint themselves with tech theatre best practices. Your experiences will be facilitated by veteran high school Theatre teachers and La Jolla Playhouse Teaching Artists, Julie Benitez and Kirsten Giard – experienced educators with nearly 60 years of teaching combined, as well as professionals working in the field of technical theatre. You will also interact with professional artists and technicians working on La Jolla Playhouse productions.
You have multiple options to choose from:
Option A: $599
Three Day Technical Theatre Intensive
Monday-Wednesday, June 26, 27, 28, 2023 @ La Jolla Playhouse
What to expect:
Hands on experiences in Theatre safety, set design and construction, props, costumes, and technical theatre curriculum.
Demonstrations and conversations with La Jolla Playhouse professionals
Guidance on lesson planning and curriculum development
Daily lunches provided
Dinner and a ticket to a La Jolla Playhouse production, LOVE ALL
Intensive begins at 9:00 am on the 26th and concludes at 5:00 pm on the 28th.
Detailed schedule will be sent closer to the start date.
—
Option B: $199
One Day Theatre Intensive Set and Show Design
Thursday June 29, 2023 @ La Jolla Playhouse
What to expect:
Geared toward Technical Theatre teachers with a strong tech background and/or those who attended the 2022 or 2023 3-day Technical Theatre Intensive. This Intensive is designed for the specific needs of the theatre teacher attendees. We are excited to help teachers grow their knowledge and bring what is learned back to their programs.
Part 1: Set Construction– Learn more advanced construction methods including stairs and other specialty pieces.
Part 2: Design– Bring your Fall or Spring show ideas and work through the design process including brainstorming of ideas, creation of an original director's vision, dramaturgy, set, costume and prop creation, creating a production calendar and other elements of design for your show.
Lunch Provided
9:00 am-5:00 pm
—
Option C: $249
One Day Lighting and Sound Basics Intensive
Friday, June 30, 2023 @ Mira Mesa High School
Lighting: Join lighting professional Chris Rynne as he walks you through the specifics of the ETC ION light board and lighting basics. Sound: Join Sound professional Loren Keagle as you navigate and demystify the basics of sound amplification and sound boards.
Classroom Application: Additional hands-on experiences include the basics of lighting design and color theory, as well as and the care and feeding of wireless mics from our La Jolla Playhouse Teaching Artists, Julie Benitez and Kirsten Giard
Geared toward the new teacher as well as the veteran teacher with new systems and/or equipment. This is a workshop of basics and may be too rudimentary for those with intermediate/advanced to advanced knowledge.
Lunch Provided
9:00-5:00 pm
—
Option D: $899
All Five Days of Program: All included above.
(You may also choose Options A, B, or C in any combination)
—
Locations:
Programming Monday-Thursday will take place at La Jolla Playhouse, 2910 La Jolla Village Drive, La Jolla, CA 92037. Housing is not provided for this intensive, but there are plenty of hotels and AirBnBs in the area. Lunch will be provided daily, and dinner will be provided on the 27th for Three Day Participants. There are several parking options on or near campus we will share with participants but public transportation and rideshare are encouraged.
Programming on Friday will take place at Mira Mesa High School, 10510 Marauder Way, San Diego, CA 92126. Park in the main parking lot by building 4 and walk towards the theatre.