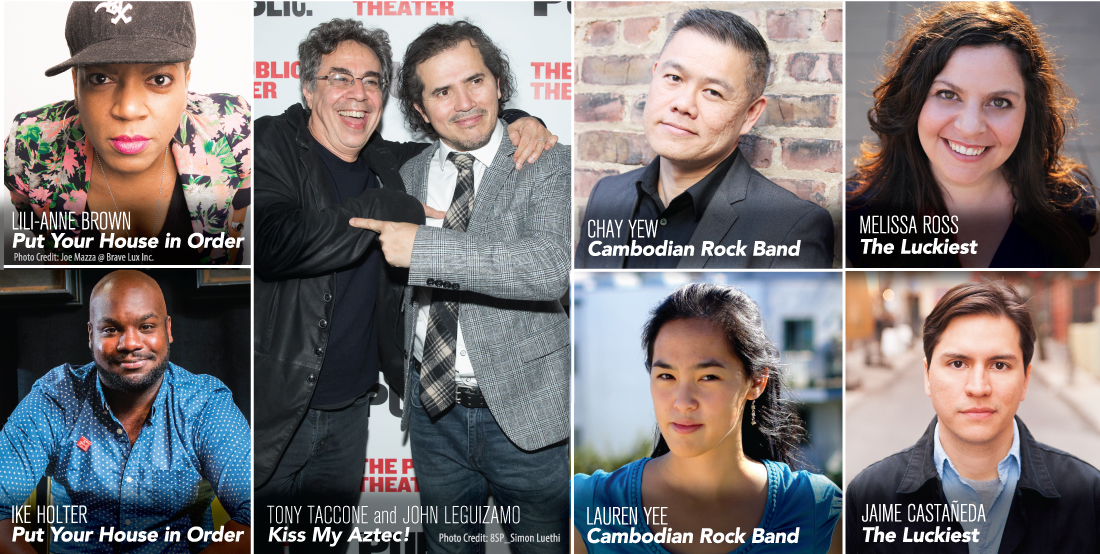 4 Shows Announced!
Renew Your Subscription Today!
Renew Now
New Subscriber?
BUY TODAY!
---
World-Premiere Play
Mandell Weiss Forum
Put Your House in Order
By Ike Holter
Directed by Lili-Anne Brown
Caroline and Rolan's first date begins as a pretty average night that ends at Caroline's house in an upscale Chicago suburb. But when the city around them begins exhibiting signs that something is terribly wrong, they quickly have to learn to trust each other to stand a chance against the horrors outside the gate. Equal parts romantic comedy and old-school thriller, this new play from one of Chicago's hottest playwrights explores new beginnings at the end of the world.

---
World-Premiere Play
Sheila and Hughes Potiker Theatre
The Luckiest
By Melissa Ross
Directed by Jaime Castañeda
Lissette is a vibrant and fiercely independent young woman. But when a sudden diagnosis shatters her world into pieces, she finds herself at odds with her mother and her best friend, who each come bearing strong opinions wrapped in good intentions. With an overwhelming amount of choices to make in a very short amount of time, Lissette is forced to navigate between the two while unflinchingly forging her own path for her future. Developed during the Playhouse's 2018 DNA New Work Series, this tender, funny and keenly-observed play explores the uncertain and sometimes heartbreaking territory of how we choose to take ownership of our lives.

---
New Musical | A Berkeley Repertory Theatre Production
Mandell Weiss Theatre
Kiss My Aztec!
Book by John Leguizamo and Tony Taccone
Music by Benjamin Velez
Lyrics by David Kamp, Benjamin Velez and John Leguizamo
Based on a screenplay written by John Leguizamo and Stephen Chbosky
Directed by Tony Taccone
When the Spanish set their sights on Mesoamerica and its riches, they will destroy anyone and anything that keeps them from conquering and claiming it all for themselves. But the Aztecs are like, "Hell, no!" This fresh, irreverent and outrageous satire could only spring forth from the insanely hilarious mind of John Leguizamo, last seen at the Playhouse in his acclaimed one-man show Latin History for Morons. Featuring a fusion of bolero, hip hop, merengue and rap, Kiss My Aztec! celebrates, elevates and commemorates Latinx culture in an uproarious new musical.
Please note John Leguizamo will be behind-the-scenes this time — other fantastic actors will be performing!

---
San Diego Premiere
Sheila and Hughes Potiker Theatre
Cambodian Rock Band
By Lauren Yee
Featuring songs by Dengue Fever
Directed by Chay Yew
Dubbed "fierce, gorgeous and heartwarming" by the Los Angeles Times, this epic play/rock concert thrusts us into the life of a young woman trying to piece together her family history thirty years after her father fled Cambodia. Featuring a cast that performs a mix of contemporary Dengue Fever hits and classic Cambodian oldies, playwright and UC San Diego alum Lauren Yee brings to vivid life the Cambodian rock scene of the '60s and '70s, a movement cut short by the Khmer Rouge's brutal attempt to erase the music (and musicians) once and for all. A story about survivors, the resilient bond of family and the enduring power of music.

---
Renew Your Subscription Today!
Renew Now
New Subscriber?
BUY TODAY!

A new musical and play to be announced soon.
All artists and programs subject to change.